It's with so much pleasure and anticipation that I announce my first program on this site! Are you ready to get started having the time of your life? I am and I'm ready to show you how to get started.
You've eaten the big meals and unwrapped the shiny gifts. You've marveled at how fast last year went  by and are ready to jump into this one. You've realized that you've run out of time to make good on those old resolutions and vow to try harder this time. Maybe you don't want to set any intentions or goals because it seems too hard and you're afraid you'll give up. There's good news! The time of your life doesn't begin on January 1st and end on December 31st. You can have the time of your life any time you choose.
It doesn't have to be difficult. There isn't a secret code. There isn't a VIP entrance. You don't have to be a superhero. No expiration date kicking your a**. By getting back to some basics, by simplifying our intentions, we can realize our greatest hopes in our every day.
Let's take the mystery out of it. Let's break it down into manageable pieces. Let's go get what we want.

You know you aren't having the time of your life when:
Past mistakes linger.
You feel stuck, period.
Getting started is hard.
You want more but don't know how to get it.
New projects or goals are overwhelming.
You're tired of the status quo.
The days run together.
You can't remember the last time someone took care of you.
You know you are having the time of your life when:
You say YES to what you want and need.
Inspiration is everywhere.
The days are full of what you love.
You have space to release and space to expand.
Nothing holds you back.
You feel supported.
You are active, aware and engaged in all you do.
In the midst of something you stop and think Wow, I'm so happy I get to do this!
Move confidently forward.
I'm here to help guide you using my personal method for making your days work for you. 2012 led me to swing on a trapeze, train for and run a 10k, travel, walk in a pinecone labyrinth, organize a five day event for hundreds of families, launch a new business and enjoy my family and friends all while maintaining our household and busy lives. For an entire month, we'll connect by email and in an exclusive online community for everyone in this program. I'll share the questions that guide me through my endeavors.
But I don't want to start on bright and shiny January 1st. That date comes with too much pressure because it's the beginning of the calendar year. If we miss a day, it's very clear. Our "perfect record" is blown. So don't do that to yourself. I'm giving you some cushion here and blowing it for you. No score keeping, no perfection. Just creating days that work at our own pace, in our own time. As much as there's room to soar, there's room to just sit.
A new journey isn't dependent upon a date or a particular length. It's dependent upon your motivation to create a new journey. No need to wait for January 1st or Yom Kippur or the return of the sun on the solstice. Decide you're ready to delve in and declare today brand new. A new era. A fresh start.
It's never too late to design the time of your life. I want you to go after what your heart desires and find deep satisfaction in the journey.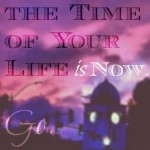 "I learned this, at least, by my experiment; that if one advances confidently in the direction of his dreams, and endeavors to live the life which he has imagined, he will meet with a success unexpected in common hours. . . . In proportion as he simplifies his life, the laws of the universe will appear less complex, and solitude will not be solitude, nor poverty poverty, nor weakness weakness." – Thoreau
Here's what you're going to design:
opportunities to be seen and known for your unique self

meaningful and productive celebrations of you

a toolkit for making things happen and feeling good while you do it

an arsenal of happiness and gratitude that inspires you

emotional space that honors where you've been while moving on
and more.
Here's what you get to work with:
a New Step and Exercise in your inbox on Monday, Wednesday and Friday for four weeks

a Private Facebook Group to share your work and connect with supporters

a 40 page pdf workbook for in-depth examining and planning; a place to put your commitment in writing; a reference guide to remind you of your intentions

Intentions and Tools to make this the time of your life
My method + your work = sparks to create the life you want to live
Added Bonus: Check-in every three months to discuss process and progress
Special gift: audio (from a special guest ) you can use anytime to keep you centered wherever you are
Who will be joining me?
Women who are ready to begin. Mamas want to nurture themselves, too. Anyone who wants to start having the time of their lives.
Are you ready to write your own declaration? Are you ready to say:
I let go of what I didn't do. I release it to be carried away on the wind while I sleep tonight.
I look forward to all that awaits.  I open to the possibilities without being attached to the outcome.
I separate my value from the things I do. I identify with the goodness and grace that I share.
I declare to live a life in the pursuit of happiness.
Of my own desired design.
When does this program run?
January 21-February 15
What's it worth?
You are priceless. This program is $47.

Or grab a package of 2 registrations for $75 so a friend can join the fun with you.

Registration is open until January 19th.
FAQ:
How do I know if this is for me?
If the coming twelve months is your house, the walls will be the experiences and feelings that build it. If you would like a solid foundation, this course is for you.
Do I have to have a facebook account to participate?
No, however, the facebook community we will create will be very supportive and helpful. I use facebook because most people already have accounts there, it's easy and it's free. If you like, you can create an account just for this program and delete it when you're finished.
How much time is this going to take?
As much as you want to give. This is your process so do what works for you. You may simply think about the prompts while others may create an entire art journal to document their ideas and plans. I know that life is busy so this is designed to be as light or as deep as you need. It's a relaxed pace with one day between the prompts and a break for the weekends so there's no rush.
Yes, but when will the work be finished?
Creating a life you love is an ever-evolving process. What you learn in this program can be used every time you are ready to take life to the next level. The workbook is digital so you can re-print it over and over. Keep the prompts in a special email folder for future reference, too.
 Do I have to have any special skills to do this?
Nope. Just show up as you and allow the process to take you where it will. If you are a writer, you will likely write. If you are an artist, you may doodle. If you like to talk, maybe you'll share your insights in dinner conversation. All I ask is that you are ready to reflect, observe and act.
Can I join with a friend?
Yes! To increase your support and fun I offer a discount for friends. Purchase a package of 2 registrations for $75 and gift one or split the cost.
Can I get my money back?
Absolutely. Do the work and if this program hasn't helped you in any way, just ask for a refund.
Why isn't this beginning on January 1st? 
I want to relieve some of the pressure of the big New Year and all of it's hoopla. (see above)
How do I sign up?
Simply add to your cart and you will check out securely with PayPal.
Register me for $47.

Register me and a friend for $75.

Registration is open until January 19th.